video feature
Beirut
CologneOFF 2011
Art & The City
Beirut
Today is the last day of a 4 days lasting presentation series in Beirut/Lebanon, Wilfried was invited to attend (31 August – 3 September 2011). For his global networking project – CologneOFF 2011 – videoart in a global context (2011-2012), he was looking since a longer time already for new contacts to Middle East countries, the festival in Damascus, featured earlier this year, belong to these initiatives as well, and one day in 2010, he established via a friend in Beirut contacts to Abdo Nawar, the director of a cultural center in Beirut, and – in sequence both agreed a collaboration. so at the end of August (2011) Wilfried was on his way to Beirut via Istanbul, where he had to change the plane.
The name Beirut had for Wilfried something magic, but when he arrived he became aware, that the city did not correspond with his ideas, he had forgotten, that during many years a deadly civil war had been destroyed especially the old (historical) parts of the city, and the newly built up urban structure had not much of that charme Wilfried had in mind.
This changed a bit, when Abdo took care of Wilfried and spent a lot of time with him, showing him around in the city and places in the mountains and along the coast, and this way Wilfried's view on the things changed.
The quater where Shams- the Sunflower Cultural Center is located is still marked by the violent traces of the civil war. Shams is actually rather a theater, used for theater productions, but other cultural events like film festivals or general, cinema, as well, but especially for the installation of an exhibition, the given architectural strctures of the building were predestined to place there a static video installation in the available niches. Differently than at other places before, the installation of the technical equipment was ready very soon.
Since Wilfried had been visited Palestine (Westbank) in 2005 and 2006, he had been interested in the historical traces of the orginal Palestinians, and when he arrived at Beirut, he asked Abdo whether he has contacts to one of the Palestinian camps erected once in 1949 as a result of a war with Israel. And one day, while the installation at Shams was ready, Abdo told Wilfried a guy from the Unesco Palestinian refugee camp Shatila would catch him and spend together with him the afternoon at the camp.
This was really exciting, because usually it is not allowed to visit Shatila. His guide was leading Wilfried around, and soon it was clear, his guide was showing Wilfried only a kind of prepared and manipulated reality, but Wilfried did not care, he was filming with his camera all, what he was allowed to record, but walking around the camp for several hours, which is representing actually a really big Arab town within the municipality of Beirut, he saw so many typical situations, that he was even very glad, that this guided tour was a kind of censored, because it is actually not possible to get a real idea of the whole camp within such a short time.
Wilfried had the chance to talk with some young guys, who expressed how unhappy they are, because there is no chance for them to earn any money, but they need money in order to get a girl friend and marry. At any corner, artefacts of the former Palestinian leader Yassir Arafat could be seen, but the Palestinian guys told Wilfried, they give nothing for Arafats ideals, they would like to travel and communicate with other young people in the world. These talks and the whole guided tour were very touching, it was sad only to experience, that these young people have the same ideals like any other young people anywhere on the globe, but they all will never get the chance, they are imprisoned, because they have no valid passport, and are therefore not able to leave Lebenon, not even the camp Shatila.
The generations of Palestinians living since 1949 there as refugees gave already soon up all there hopes anything might change to the better, and- for Wilfried it was really terrible to leave the camp knowing that he was leaving behind really very nice and peaceful people without any hope for a Future – and he was not able to change anything.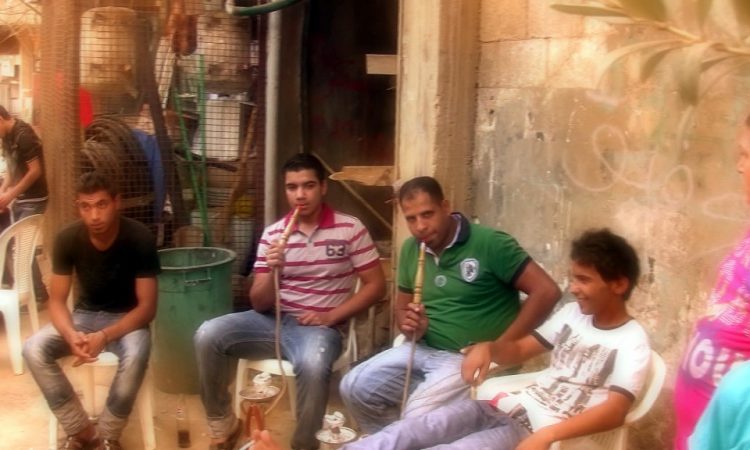 Wilfried Agricola de Cologne – Shatila – Lost Island, 2016, 20:00
For the presentation of videoart, Wilfried was launching CologneOFF VII – Art in the City as a world premiere on occasion of his visit in Beirut and soon it become obvious, the attending audiences liked Wilfried special selection.
When Wilfried returned to Cologne some days later, he brought with him a wonderful treasure in shape of a lot of video material, he would use to make a film about Shatila dedicated to these most impressive Palestinians. The film, however, will be completed only in 2016.
Schedule for – 03 September
•Linoleum Animation & Media Art Festival Moscow – 10 July – 09 September 2012
• Digitraffic@Germany – SENEF 2005 – Seoul Net & Film Festival Seoul/South Korea – 01 July – 01 Sept.
•Torrance Art Museum Los Angeles – 18 July – 5 September 2020
*FILE – Electronic Language Festival Sao Paulo/Br 13/08 – 09/09 2007
*FILE – Electronic Language Festival Sao Paulo – 25/08 – 05/09 2006
FILE Hipersonic Festival Sao Paulo/Brazil – 13 August – 9 September 2007
*FILE – Electronic Language Festival Sao Paulo – 25/08 – 05/09 2006
Kansk International Video festival – 17-25 August 2012
MIVA – Muestra Internacional de Videoarte Alterego – Quito/Ecuador – 22 August – 14 September 2014
MIVA – Muestra Internacional de Videoarte Alterego – Quito/Ecuador – 24 August – 19 September 2012
CologneOFF 2012 Beirut – 30 Aug-3 September 2012 – Shams Art Center Beirut
BEAP – Biennale of Electronic Art Perth/Australia – 1 September – 17 November 2004
Luksuz Film Festival Lubljana/Slovenia 2-3 September